If you like fine dining, you cannot miss the EVOO Cooking School dinner show in Cannon Beach, Oregon...it's like nothing you've ever experienced.
I'm a fairly seasoned culinary aficionado, so when I go out to eat I can be quite critical. I often pay close attention to the detail of the dining experience…from the ingredients used, to how the meal is prepared and plated to the atmosphere of the establishment. Food is the very essence of life and while it is used for sustenance, if grown and prepared properly, food can be an engaging artistic experience.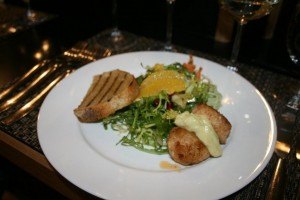 I get extremely excited about food and have such an appreciation for those who can create memorable experiences with it. The
EVOO Cooking School
(EVOO stands for extra virgin olive oil, a key ingredient here)
is [b][/b]not just a "cooking school," but rather a place to experience culinary delight.
The atmosphere will make you feel like you're on the set of a cooking show with all your friends.
You can get a full description of my meal, see more pics and view a video by going to:http://www.mikesroadtrip.com/evoo-cannon-beach
Add a Comment
Join GotSaga for free! You can share your sagas and much more with millions and are offered a wide variety of tools to enhance your travel experiences for sagas yet to come.