Rating:
Incredible facts about genious throughout histtory
By: Tarah
Picasso:
Picasso's Full Name Has 23 Words
Picasso was baptized Pablo Diego José Francisco de Paula Juan Nepomuceno María de los Remedios Cipriano de la Santísima Trinidad Martyr Patricio Clito Ruíz y Picasso. He was named after various saints and relatives. The "Picasso" is actually from his mother, Maria Picasso y Lopez. His father is named Jose Ruiz Blasco.
Picasso had such a difficult birth and was such a weak baby that when he was born, the midwife thought that he was stillborn so she left him on a table to attend his mother. It was his uncle, a doctor named Don Salvador, that saved him: 'Doctors at that time,' he told Antonina Vallentin, 'used to smoke big cigars, and my uncle was no exception. When he saw me lying there he blew smoke into my face. To this I immediately reacted with a grimace and a bellow of fury'"
Picasso's First Word: Pencil
It's like Picasso was born an artist: his first word was "piz," short of lápiz the Spanish word for 'pencil.' His father Ruiz, an artist and art professor, gave him a formal education in art starting from the age of 7. By 13, Ruiz vowed to give up painting as he felt that Pablo had surpassed him.
Picasso was a Playboy
Being a famous artist certainly helped Picasso get the girl. Girls, in fact - many, many girls. Here's a short list of known wives and lovers of Picasso
- Fernande Olivier (Picasso's first love, she was 18?; he was 23)
- Marcelle Humbert AKA Eva Gouel (she was 27, Picasso was 31)
- Gaby Lespinasse (he was 34, I don't know how old Gaby was, but she was young, that's for sure!)
- Olga Khokhlova (Picasso's first wife; she was 26 and he was 36 when they met)
- Marie-Thérèse Walter (she was 17, he was 46)
- Dora Maar (she was 29, Picasso was 55)
- Françoise Gilot (she was 21 when she met Picasso, who was 61)
- Geneviève Laporte (one of Picasso's last lovers. She was in her mid-twenties and a French model of Picasso, who was in his seventies when the affair started)
- Jacqueline Roque (who became Picasso's second wife. She was 27 and he was 79)
Picasso was a Terrible Student
No doubt about it, Picasso was brilliant: artistically, he was years ahead of his classmates who were all five to six years older than him. But Picasso chafed at being told what to do and he was often thrown into "detention":"For being a bad student I was banished to the 'calaboose' - a bare cell with whitewashed walls and a bench to sit on. I liked it there, because I took along a sketch pad and drew incessantly ... I could have stayed there forever drawing without stopping"
BEETHOVEN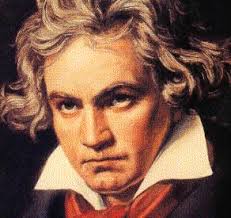 Born in Germany to an extremely poor family, Beethoven's father was his first music teacher who was harsh and a known alcoholic. His father decided to train Ludwig as a pianist, so that he could be hailed as a prodigy and win fame and money for the poverty-stricken family.
Beethoven was made to practice scales and finger exercises for hours at a very early age. He was performing by age 9. By age 13 he played the piano in an orchestra and conducted the band at rehearsals for no salary.
Beethoven well noted for composing nine symphonies, continued to compose music even after he began losing his hearing at age 28, most likely from lead poisoning. After going death he cut the legs off a piano so he could feel the vibrations of the music so that he could still compose music.
Beethoven's character often showed disdain for authority, and for social rank. He would stop performing at the piano if the audience chatted among themselves, or afforded him less than their full attention. At the end of the premiere of his Ninth Symphony, he had to be turned around to see the tumultuous applause of the audience; hearing nothing, he began to weep.
Beethoven was most heavily influence by Mozart. His most important teacher was German composer Neefe who used the music of Bach for instruction. In 1792 Beethoven studied with Haydn. Beethoven never married. Ludwig van Beethoven passed March 26, 1827. Twenty thousand people followed him to his grave. Among them was Schubert. Beethoven is regarded by many as one the greatest composer of all time.
Albert Einstein
Einstein Had Speech Difficulty as a Child
As a child, Einstein seldom spoke. When he did, he spoke very slowly - indeed, he tried out entire sentences in his head (or muttered them under his breath) until he got them right before he spoke aloud. According to accounts, Einstein did this until he was nine years old. Einstein's parents were fearful that he was retarded - of course, their fear was completely unfounded!
Einstein Failed his University Entrance Exam
In 1895, at the age of 17, Albert Einstein applied for early admission into the Swiss Federal Polytechnical School (Eidgenössische Technische Hochschule or ETH). He passed the math and science sections of the entrance exam, but failed the rest (history, languages, geography, etc.)! Einstein had to go to a trade school before he retook the exam and was finally admitted to ETH a year later.
Einstein Became Estranged From His First Wife, then Proposed a Strange "Contract"
After Einstein and Mileva married, they had two sons: Hans Albert and Eduard. Einstein's academic successes and world travel, however, came at a price - he became estranged from his wife. For a while, the couple tried to work out their problems - Einstein even proposed a strange "contract" for living together with Mileva:
The relationship progressed. Einstein became estranged from his wife. The biography reprints a chilling letter from Einstein to his wife, a proposed "contract" in which they could continue to live together under certain conditions. Indeed that was the heading: "Conditions."
A. You will make sure




1. that my clothes and laundry are kept in good order;





2. that I will receive my three meals regularly in my room;





3. that my bedroom and study are kept neat, and especially that my desk is left for my use only.





B. You will renounce all personal relations with me insofar as they are not completely necessary for social reasons…






There's more, including "you will stop talking to me if I request it." She accepted the conditions. He later wrote to her again to make sure she grasped that this was going to be all-business in the future, and that the "personal aspects must be reduced to a tiny remnant." And he vowed, "In return, I assure you of proper comportment on my part, such as I would exercise to any woman as a stranger."
The Saga of Einstein's Brain: Pickled in a Jar for 43 Years and Driven Cross Country in a Trunk of a Buick!
After his death in 1955, Einstein's brain [wiki] was removed - without permission from his family - by Thomas Stoltz Harvey [wiki], the Princeton Hospital pathologist who conducted the autopsy. Harvey took the brain home and kept it in a jar. He was later fired from his job for refusing to relinquish the organ.
Many years later, Harvey, who by then had gotten permission from Hans Albert to study Einstein's brain, sent slices of Einstein's brain to various scientists throughout the world. One of these scientists was Marian Diamond of UC Berkeley, who discovered that compared to a normal person, Einstein had significantly more glial cells in the region of the brain that is responsible for synthesizing information.
Bernadette
I found this interesting, thankyou. But how can anyone these days say they have something in common with them - except for a Dead, Pickled or Sliced Brain..... Cheers LOL
Created at 06/22/2009 - 04:05
S
so interesting, I have somethings in common with each one of them
Created at 06/17/2009 - 00:33
david
It goes to show you , no matter what's your short coming's is in life you can still make a difference.
Created at 06/16/2009 - 00:09
Jim
I find the "Contract" between Einstein and his wife interesting. I wonder why she put up with it? Thanks.
Created at 06/14/2009 - 21:25
Add a Comment
Join GotSaga for free! You can share your sagas and much more with millions and are offered a wide variety of tools to enhance your travel experiences for sagas yet to come.